Timeless Advice From an Old Artist. 
By late afternoon I was facing an evening of ~I thought~ no dinner or some wretched excuse for food after counting coin in the purse.
Then I decided, too depressing, screw that. I'm going to EAT.
This is a brief monograph on how to live cheaply and superbly well. I'm heading to a distilled version, at my age I've learnt a bookfull which may follow.  Now don't fidget, I'm going to enlighten you and you will be happier for it.
I just got back from Safeway with a New York Strip Steak, head of fresh broccoli, a couple fresh carrots, two bagels, 1/2 lb. deluxe coffee, and I am way too impressed with how brilliantly I can shop and I thought, well hellfire I should pass this on. It's about two days, maybe three of good dinners and I spent $11 bucks and change.

Anyone managing half a century knows a thing or two but I observe that even my peers (ones spared the roller coaster rides of life)  may not know how to manage this latest economic turmoil. I'll instruct you all. I'm very good at this. 
       First of all, the world's a mess, so calm down. It always has been. I have devolved a handful of principles which have served well on any budget on any Tuesday, Wednesday, etc.
1. Figure out what pleases you to have in a 24 hour day, and have it.

2. Don't deprive yourself of your pleasures (see 1.) 

3. Don't panic if you are not within reach of somebody else's idea of pleasure, you have your own list.

4. Be unbelievably clever.

5. Follow the Huckleberry Finn school of hardy living, i.e., plunge into the Mississippi and drink its fevered waters. Pay some attention to what you've been told is good for you but count most on your own experience and what makes you happy. If you aim for frenzied coddling you won't like the results. However, luxuries are great and sleeping on French Linens from the thrift shop is really sweet. What makes you happy will heal what ails you fastest of all.

APPROACH STORE.
Enter the store with a money limit in mind (you can get really good at this, sometimes to the penny). Think: I CAN DO THIS, I'M HAVING A GREAT DINNER. 
"Italian Dinner" by Steve Vanderwolk
Head for exactly what you want most to have, look for bargains and go slow.
Most stores have their own version of coffee beans, they're cheapest and best, ground on the spot. Little better than 1/2 lb cost me $4.58.  Good for three days, it's all I drink, unless there's some Jack Daniels left. The meat department always has deals, sometimes half off. My fresh NY Strip steak on sale cost $4.67 instead of $7.47.  Broccoli  crowns .94. Bagels 2/$1  (breakfast 2 days). Two big carrots about .35 cents.
I had a huge tomato left at home, cut up half an onion and fried it with some garlic in olive oil. Boiled the brocoli and carrots a few minutes. Pan fried the steak. What's left will go for one more dinner and maybe a breakfast taste day three.
Fish is great for you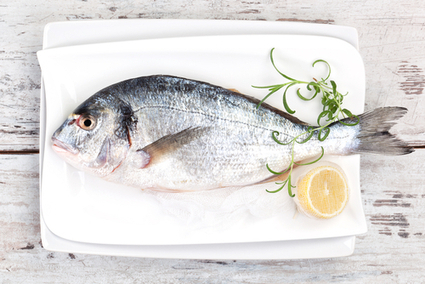 (and you can pick out the most expensive wild salmon or swordfish behind the counter and tell the nice man you want some of that, about $3.50 worth). Likely good for two meals. And he'll do it and you'll both be smiling. Avocados are very cheap here now, Haas are $1 each, sometimes less. Campbell's Soup that hasn't been made trendy is still good and a can of sardines on a bagel with a slice of onion is another great and filling dinner, setting you back about $3.50, less if you find sales.
A great baguette and stick of butter or olive oil, bit of salt and pepper, slice of onion, chunk of cheese, delish and filling and cheap.

Crepes are really easy to make and an open invite to leftovers. Egg and water and flour and that's it. You do need butter. Fried or scrambled or hard-boiled eggs or egg salad with onion, garlic, vegetables. Cucumber sandwiches with the last in the mayonnaise jar, salt and pepper and oregano, delish.
If dessert is out of reach, mix up a couple of teaspoons of sugar, some butter, peanut butter, chocolate anything if you've got it (like Hershey's syrup or wondrous Nutella), and a bit a of jam if there's any left in the jar and eat it by the spoonful. Better than a pastry filling. And if you have crackers, put it on them.
Make it pretty.
  Use the Limoges and the Baccarat and silver. Linen napkins. A flower from the garden at the top of the plate. Make the experience rich. Tomorrow you'll sell a painting; the publisher will call; the agent will tell you to dust off the dancing slippers; the sun will shine.
  And tomorrow when all the above comes true you can go back to every store in town and spend like a maniac.
You get the idea. I'm not going to list all the options and you'll make your own depending on what pleases you.
The operating principle must be in working order, and that is:  Circumstances may suck at the moment. Tomorrow is another day. This is my life and I want to be happy in it. How do I make that work. I HAVE OPTIONS. I refuse to feel deprived, short on any front, or sorry for myself. Which thinking, as it happens, is a meal in itself. 

             Bon appetite.

(Photo Credits: Yellow dining room: Monet's Table. Fish on Plate: Daniel Goleman, Consortium/Research Emotional Intel. Painting~ Heron/Otter Above Pfeiffer Beach, Sparhawk)